Post by sandy on Jan 17, 2009 16:53:50 GMT -8
Well after waiting several months, we have a combined class of 2008 and 2009 pups (and former pups), pictured at under 3 months of age, any colour eligible.
Again, just a reminder that your photography is the biggest help in getting your gerbil to win. We need a good, clear side shot from whiskers to the tip of the tail, and a front or 3/4 shot. Choosing a complementary background is a good idea too, in a contrasting colour to that of your gerbil.
Also, I love judging pups. They're so cute.

Here goes...
Naomi's Diesel
Diesel is a 6 week old Slate male with the characteristic almost purple sheen of Slates. He has nice long whiskers and a good full tuft. His tail seems a bit short, and his eyes are round rather than almond shaped but it is hard to tell because of the blurry picture. I'd like to see him bulked up a bit more. He does seem to be enjoying his snack, so perhaps he's well on his way!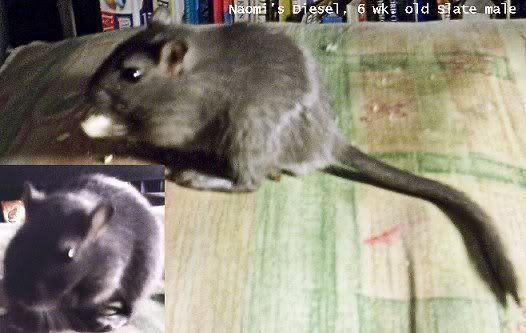 Judit's Pumukli of Zarposz
Pumukli is a 10 week old Black Eyed White male. He has beautiful eyes and whiskers, and very nice ears. His body is of average build and by now he should be starting to bulk up a bit more. He has a nice tuft but his tail seems a bit thin. His fur is stained beside the cheeks and you can see a molt line on his nose. Otherwise a very good looking gerbil.

Shooting Star's October Skies
October Skies is a 10 week old Agouti male. He has a very light build and, again, I'd like to see more bulk being put on by now in a male gerbil. More sunny seeds! His fur is shiny and his belly has a nice cream colour, but his demarcation line on his side is a bit blurred and he has white around his eyes and ears. He has a couple of molt lines and a bit of a thin tail but a good tuft.

Jill's Lucie
Lucie is a tiny wee 5 week old Colourpoint Golden Agouti female. She is beautifully photographed on her coloured bedding. At first I thought it was rose petals! She has absolutely beautiful enormous eyes, and a nice build. Her ticking is quite dark for such a young gerbil. I can't see much of her tail or demarkation line, but she looks like she has a lot of promise!

Tony's Poppy
Poppy is a 9 week old Saffron (REN) female with a nice rich colour. Unfortunately the colour is not even on the coat, which is beautifully glossy. Good ears but eyes a bit round, and a good full tail. Nice whiskers.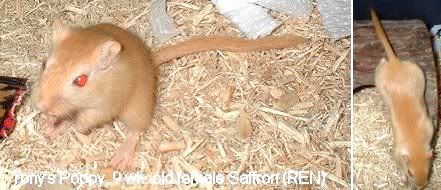 Kristi's Colfax
Colfax is an 8 week old Spotted Grey Agouti male. He has nice dark ticking and a good white belly but the demarkation line blurs a bit at the stomach. Great eyes, ears and whiskers and a good thick tail, though I can't see the tuft. Nice even spots. Is he waving at me?

Jill's Aggie
Aggie is a 7 week old Nutmeg female with a good strong build and very good colour. Her ticking is nice and dark, combined with the deep amber tone of her fur making it look so rich. She also has nice eyes, ears and whiskers but points deducted for the white knuckle-dusters and of course she is in full molt. Would love to see her later!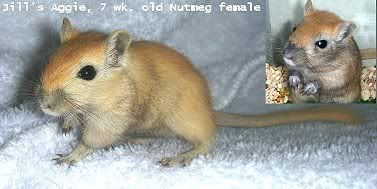 Third Placement--Shooting Star's Winter's Reign
Winter's Reign is an 11 week old Silver Nutmeg male. He has beautiful dark ticking and is very silver toned for his colour which is stunning. He has a strong build with a lovely long, thick tail and good tuft. His ears are a bit too rounded on top and held very upright which gives him a bit of a surprised look. Eyes also a bit too rounded but overall he's a very beautiful gerbil. Beautifully photographed as always, Danielle.

Second Placement--Kristi's Washtucna
Washtucna is an 8 week old Spotted Pearl male. In spite of being so light you can clearly see a demarcation line, and the fur looks so soft with that light, even ticking. Beautiful eyes and whiskers, ears square but a little long, and a good thick tail completed with a nice tuft make this a very attractive little boy. You can see he's going to be a big boy when he grows up--he has big feet! Also very nicely photographed, Kristi.
First Placement--Judit's Puszedli of Zarposz
Puszedli is a 10 week old Black Eyed White female with very light, well shaped and placed ears and extremely clean, soft white unstained fur. Her head is well set, with wide almond shaped eyes and long whiskers. Her tail is a bit thin but she has a good tuft. Lovely, lovely thing.

Congratulations and thanks to all who participated.