Post by doomgerbiluk on May 7, 2006 8:23:19 GMT -8
picking up gerbils
Gerbils are desert animals. In the desert, danger is usually from the sky. To pick a gerbil up don't grab from above...it will scare them. Carefully scoop up from below.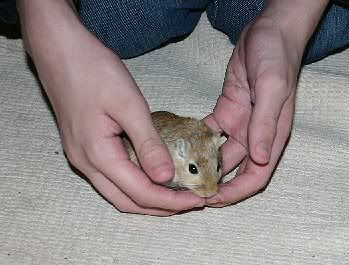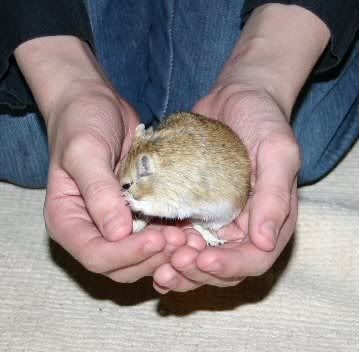 Holding gerbils
1) Normal holding of a tame gerbil.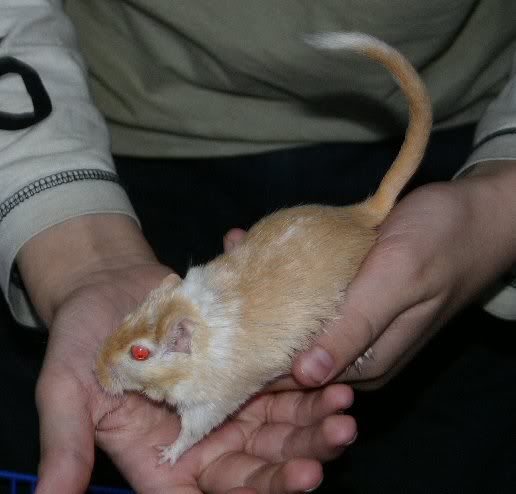 They don't keep still, so just let them walk from one hand to the other, keeping changing hands. Also works with hamsters.
2) to check gender or for cleanliness of bottom area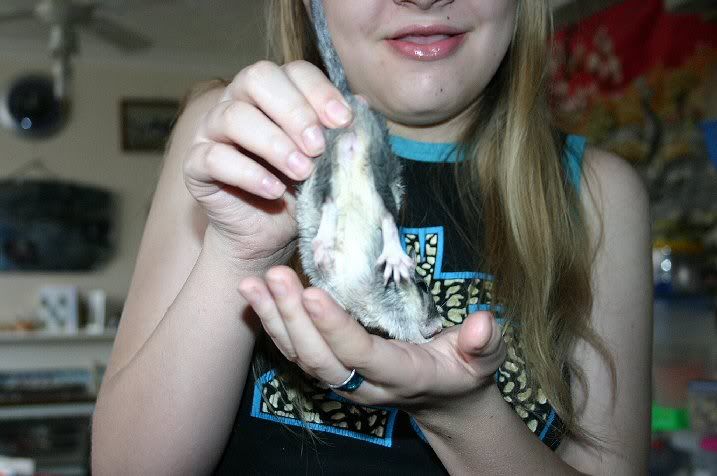 Hold by the base of the tail and lift with gerbil supported on other hand. Do not hold by any other part of tail and do not hold like this for long.
2) pups with eyes nearly or just open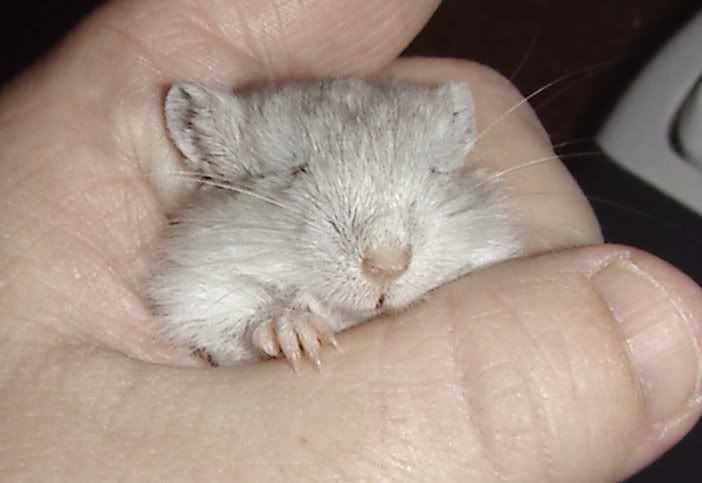 Pups this age move very quickly, we nickname them popcorn pups. Hold firmly without crushing and they generally fall asleep!! (Dan here is blind not asleep)
Be very careful, that still, sleepy pup can suddenly explode like a wound spring and run from your hand into serious trouble!
nervous gerbils
You can pick up a nervous gerbil in a jar, tube or other container that is part of it's normal home.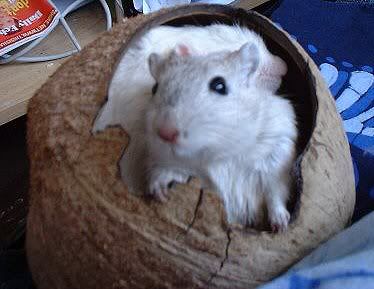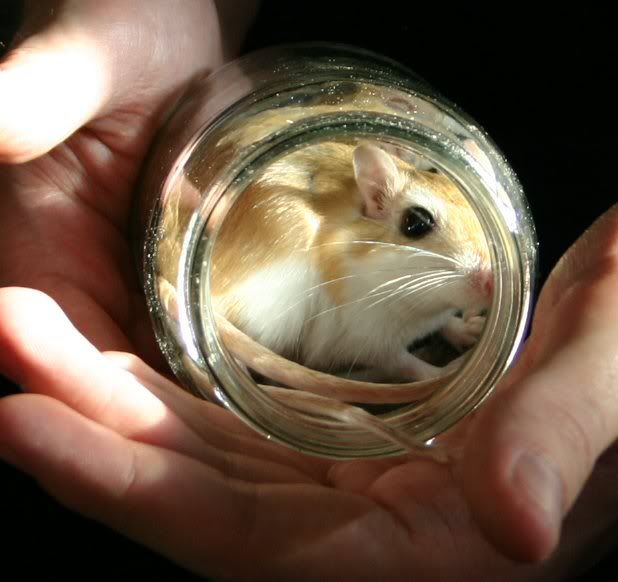 Let the gerbil choose when to leave the receptacle so it feels in control.
Weighing gerbils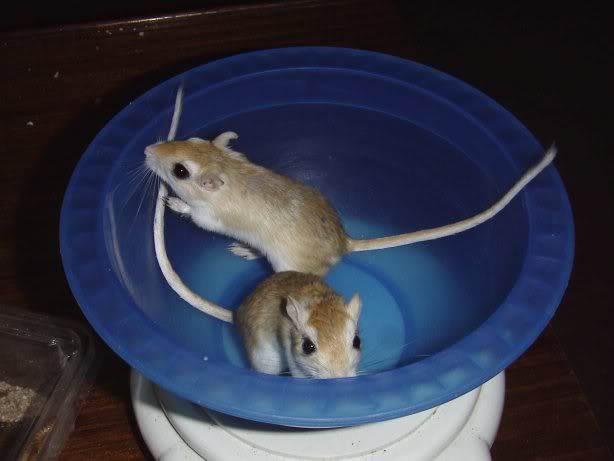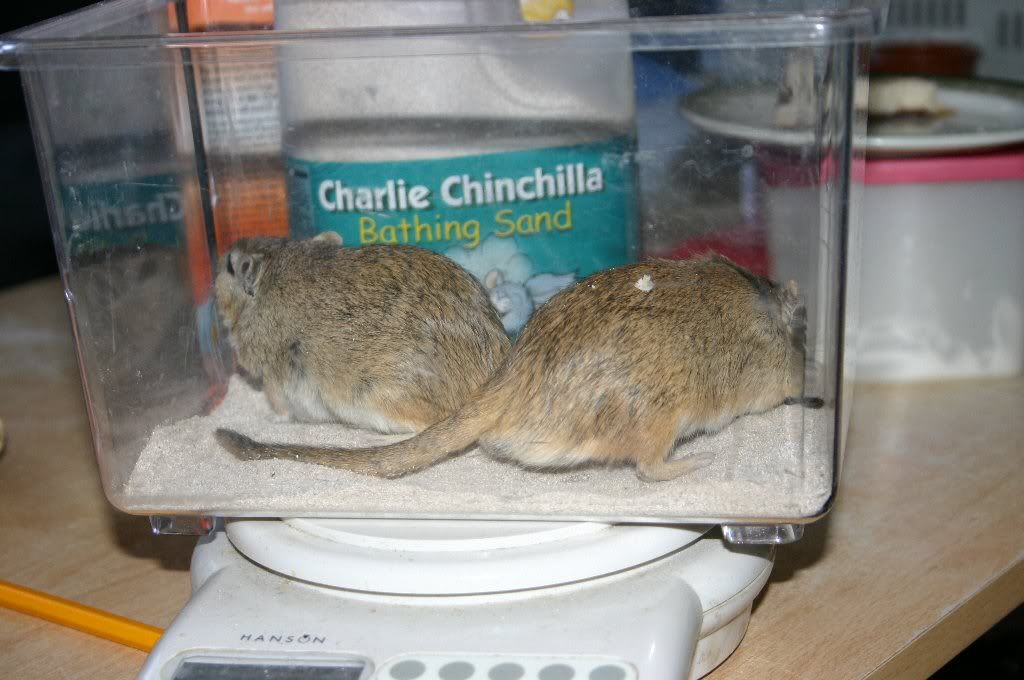 I use electronic scales, first put bowl or show pen on, set to 0, then add gerbils.
Gerbil sandbath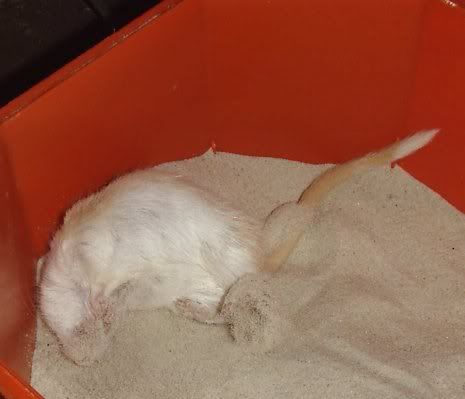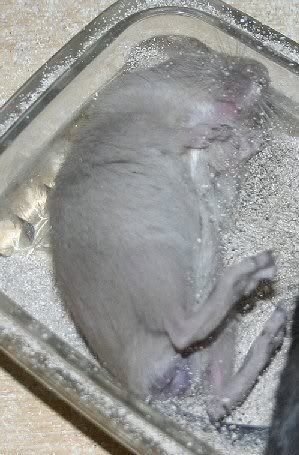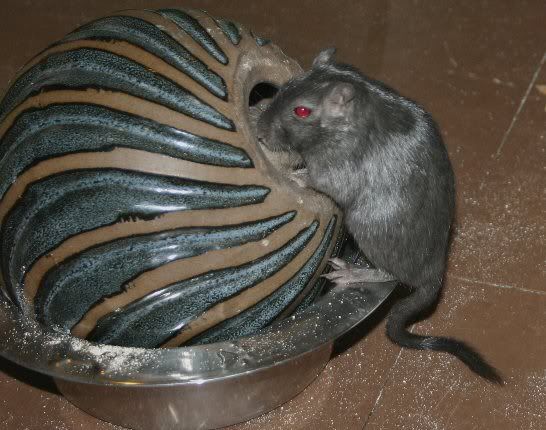 just put sand in a bowl, pen etc and add gerbils
nesting material
The best is plain cheap white tissue...give the gerbils whole sheets and they will love shredding them.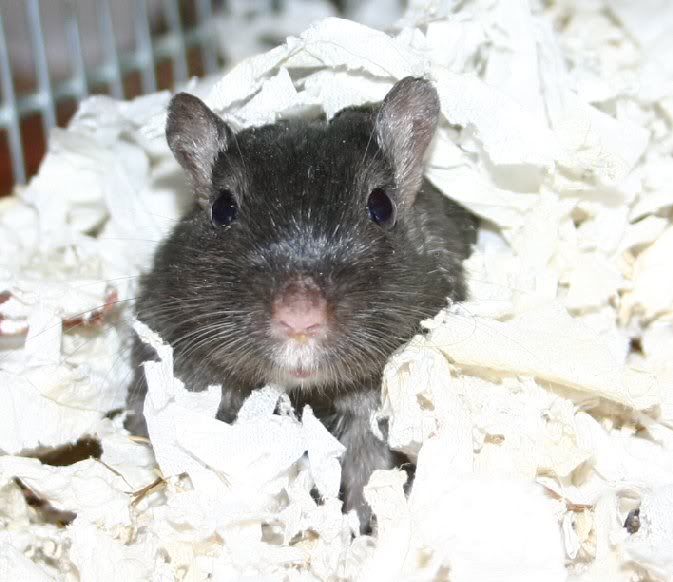 Male or female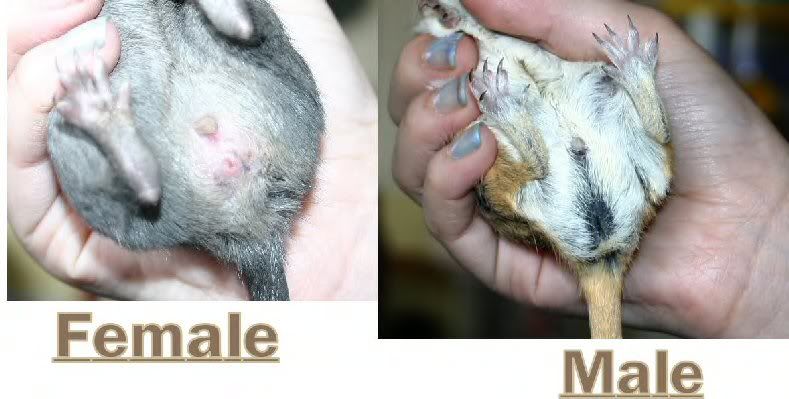 Water bottles
In tanks a wire cage is good for plastic bottles.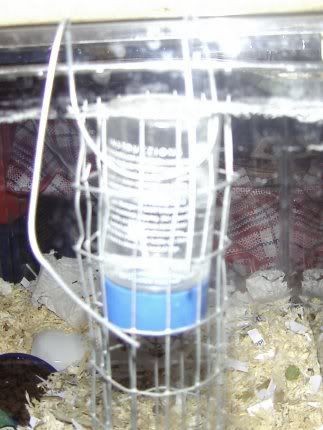 In plastic bins a hole in the side and wire to balance it.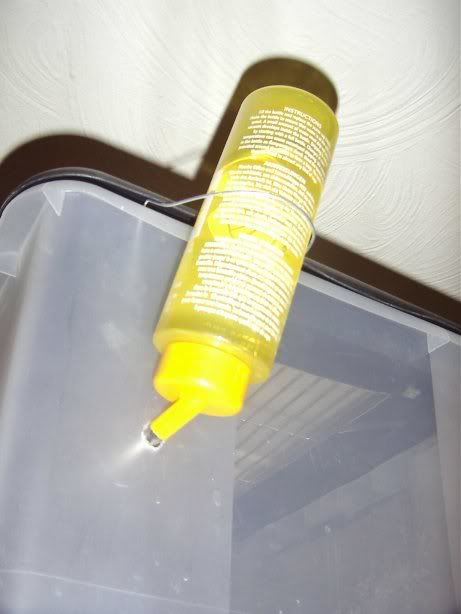 Showing/transporting gerbils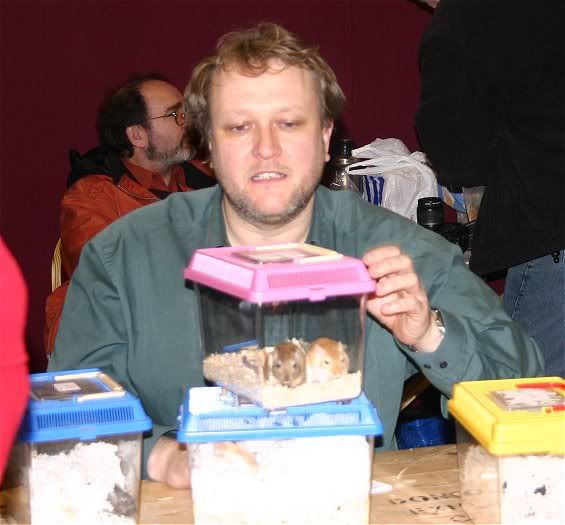 These small tanks are ideal. Some substrate (woodshavings or whatever you normally use), shredded white tissue, a little food and some cucumber or grape for moisture and your gerbil should be fine. Try not to let them overheat though.
agouti V nutmeg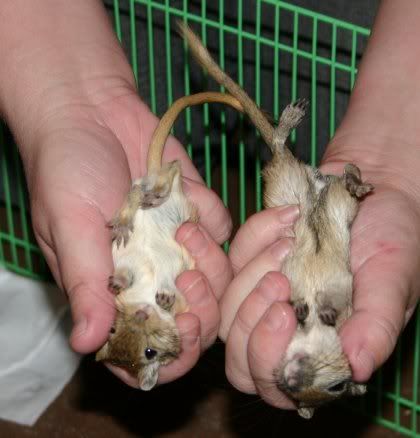 The agouti has white feet and tummy (as do all agouti types and spotted/pied gerbils)
The nutmeg is a self and has a greyish/nutmeg belly
Split cages
For Mongolians a traditional split introduction is good. Remember splits can take weeks/months and don't always work.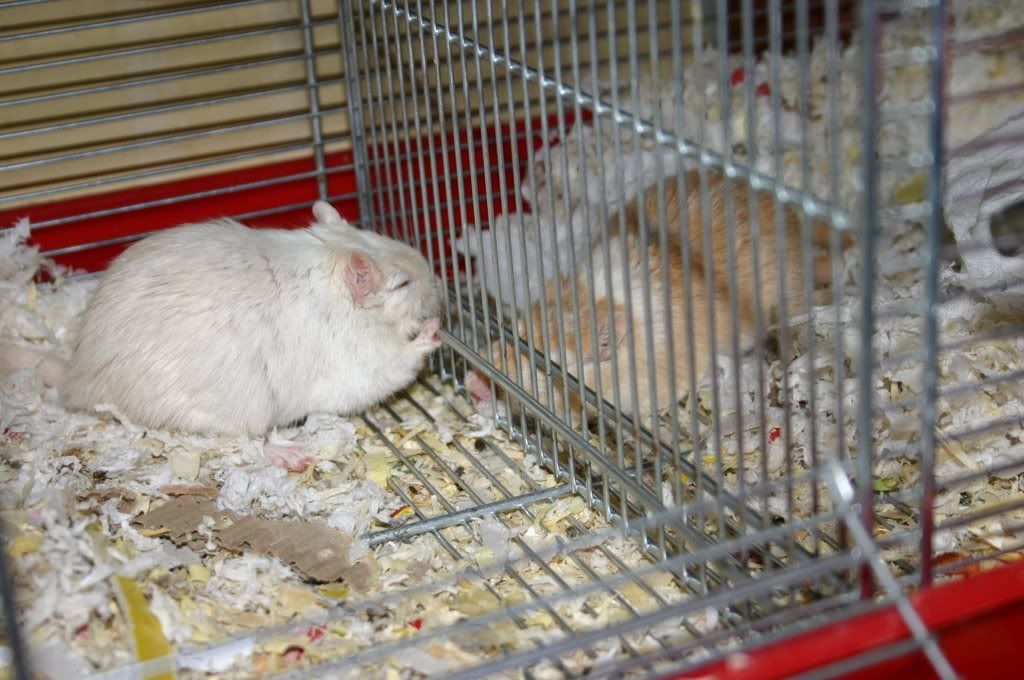 For dipodils a small cage within the tank is used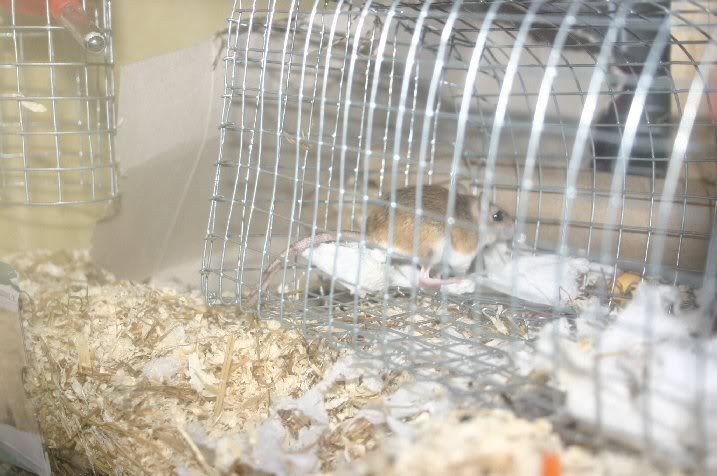 Teeth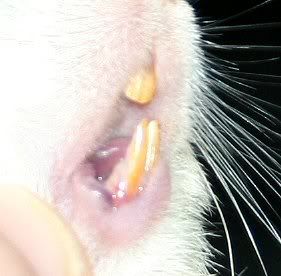 Tend to be yellowish. The front incisors grow throughout a gerbils life and if they are not trimmed through gnawing can cause problems. Also if the are broken or loose they can prevent a gerbil eating. Gerbils who loose weight fast often have tooth problems.
Ears
Problems with gerbil ears are often shown by a head tilt, gerbils should see a vet!
Healthy ears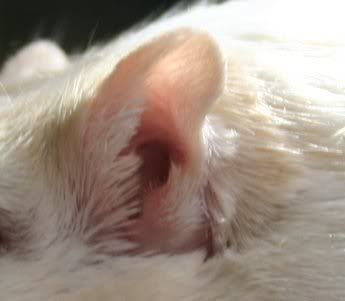 Claws
Gerbil claws are important for grip and feeding. They rarely need clipping.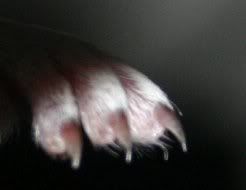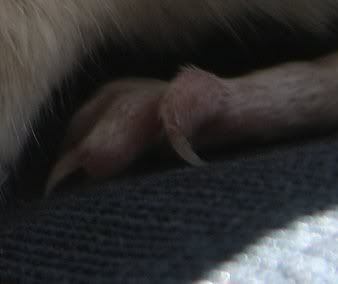 Claw colour varies..read the standards for the different colours.
Pregnancy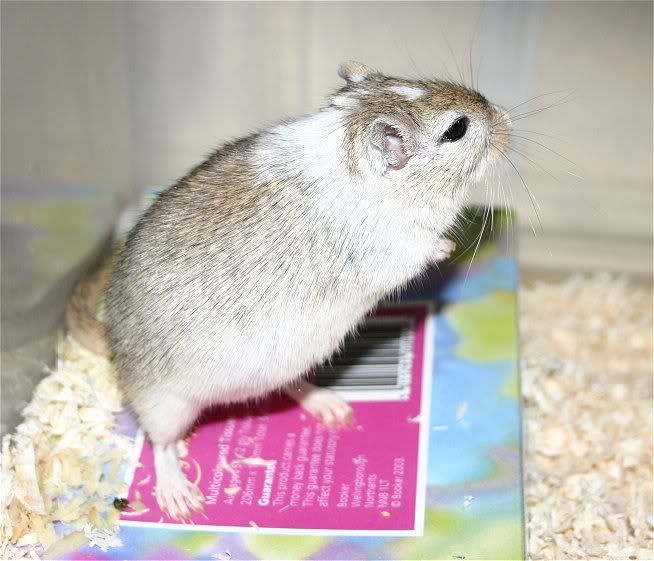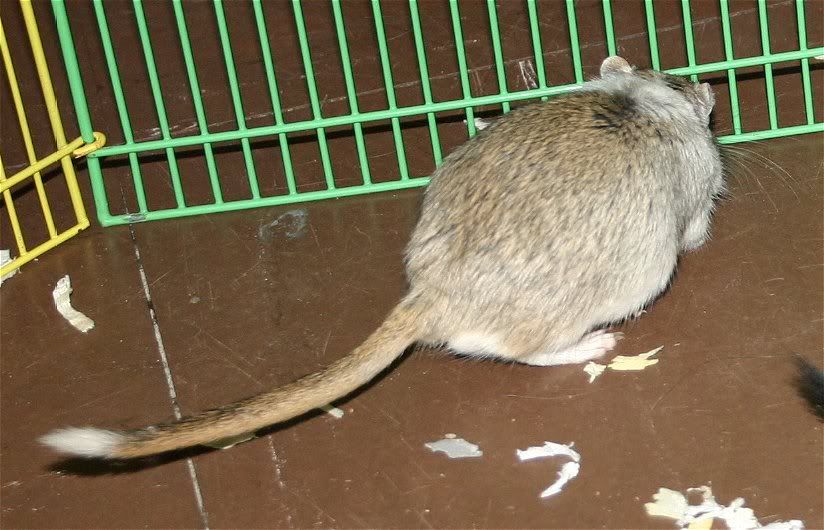 A gerbil close to giving birth often develops a 'lumpy' tummy as the pups get big. Sometimes you can feel them moving!
medicines
I hold the gerbil firmly in the palm of my hand with my finger and thumb holding his front paws, then use a syringe to place meds in his cheek. Don't squirt it down his throat and don't give more than a drop at once.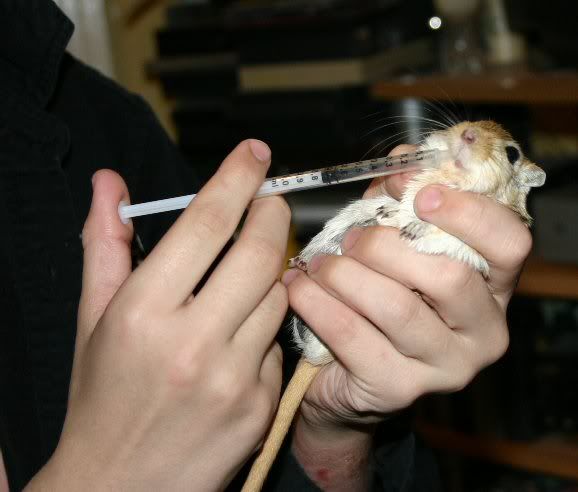 Pups
Newborns
Gerbil mums often seem very rough with their newborns. They may dig furiously and send pups flying around the tank, they may move them around a lot and for a few hours when they come on heat and mate with dad may seem to totally neglect the pups.
Here are some healthy pups. They are filled out and have white milk spots showing in their tummies.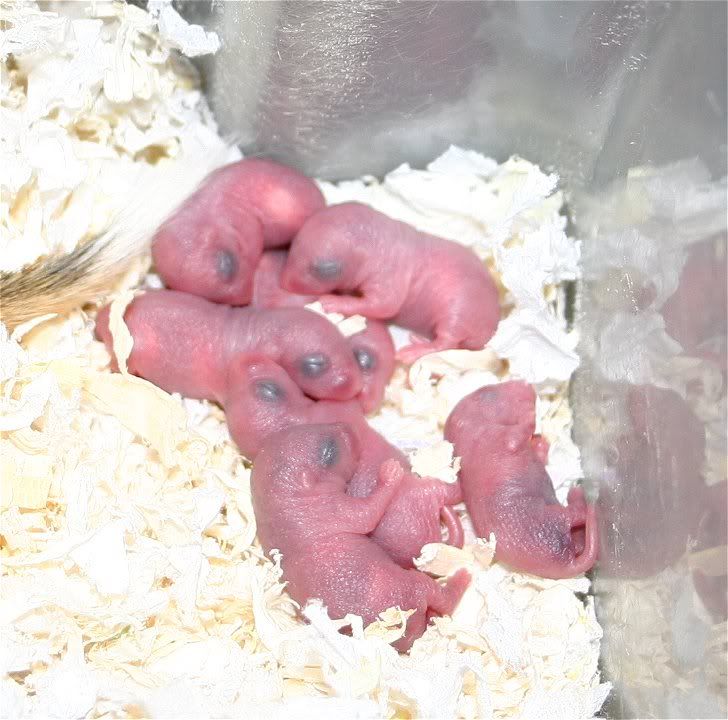 Same but dipodil pups!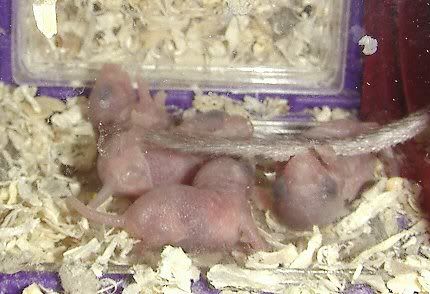 This pup's mother failed to produce milk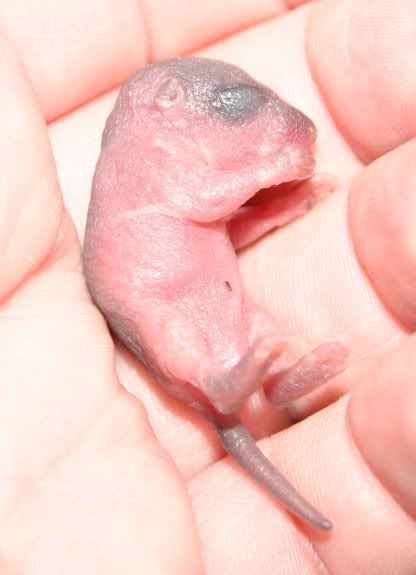 After hand feeding he looked like this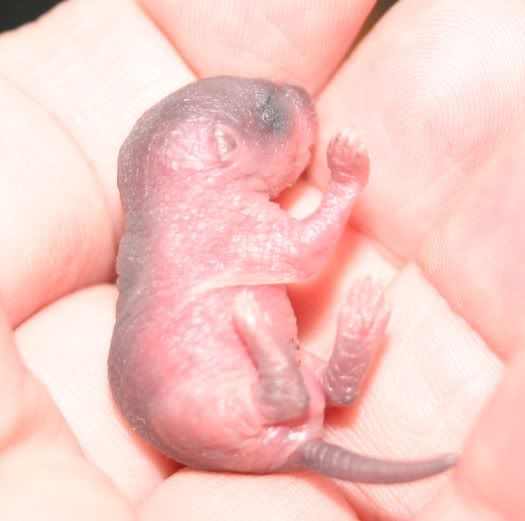 Look at the eyes..you can tell which will have dark eyes and which light already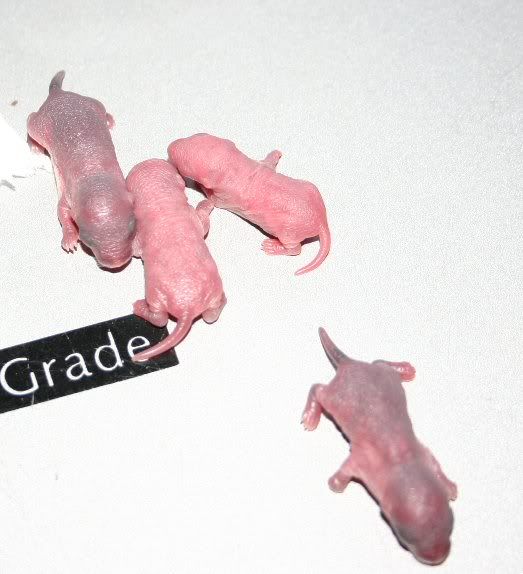 Food and bedding storage
Food and bedding should be stored away from light and in a rodent and insect proof place. I prefer to freeze any hay I use and my feed to be sure there are no bugs (insect, bacterial or viral).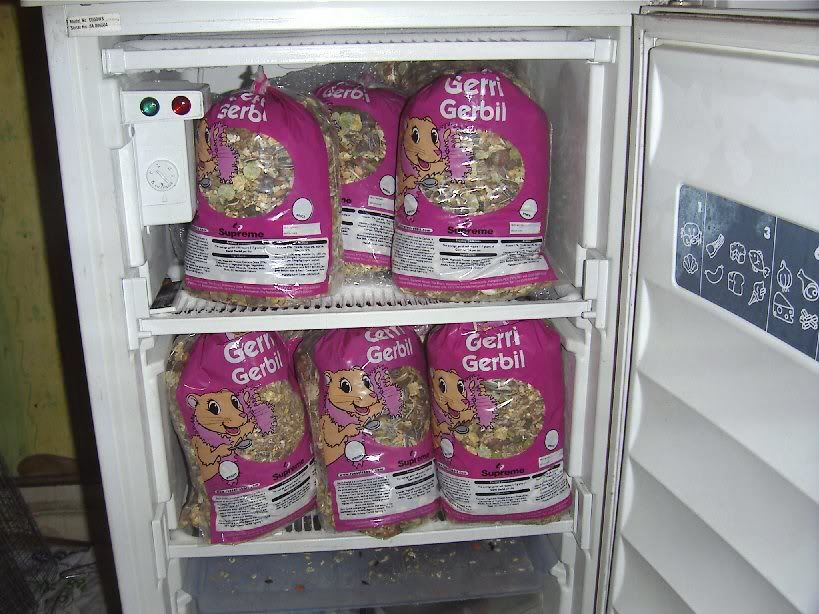 Food
A good gerbil mix such as Gerri or a hamster mix, but beware of too many peanuts.
I mix Gerri with a hamster mix and buy both by the sackful!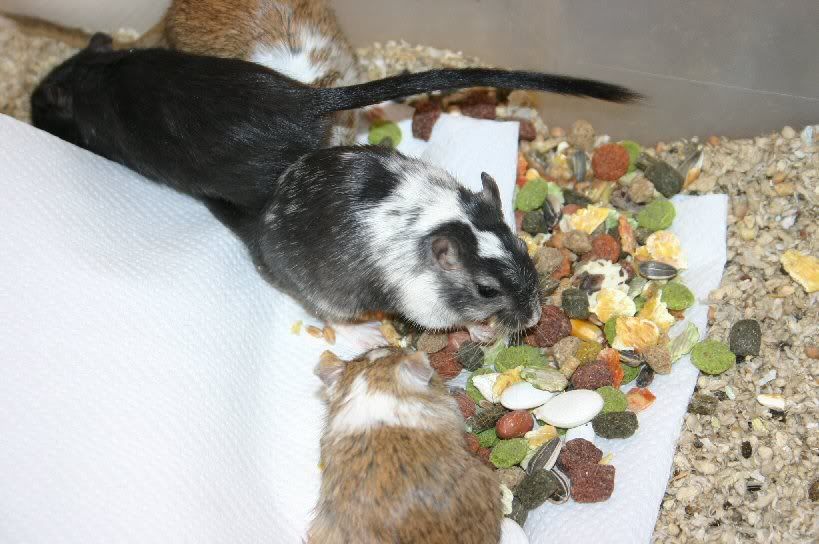 You may wish to remove the peanuts and feed separately as treats.
(some gerbils have no patience
)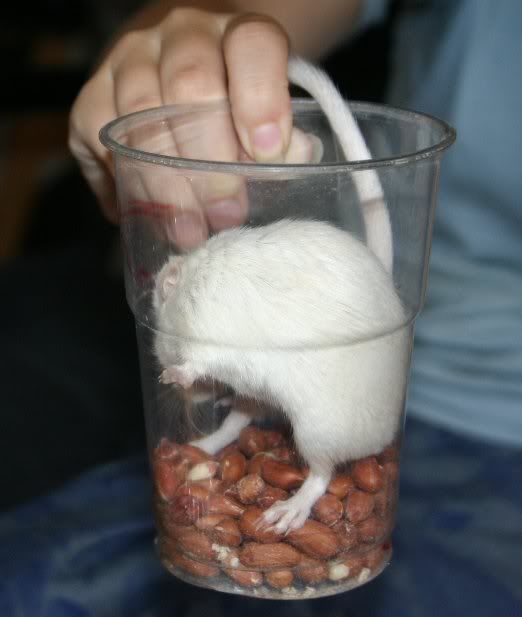 Fresh fruit or veg in small amounts, see the
safe/unsafe food lists
[edit, mod mpd, replaced original dead link with our food list).
Set ups
I use/have used various habitats including:
The vivarium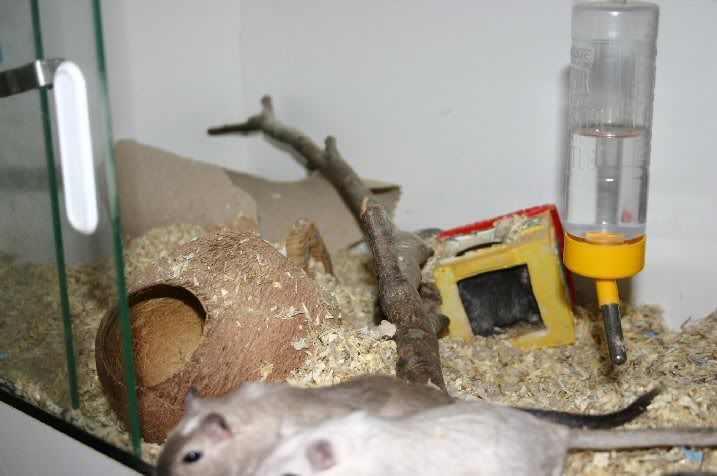 Positives
lots of space and height
easy to access/talk to gerbils
Negatives
ventilation can be poor
bedding falls out when door opened
Verdict: I love them
Glass tank
Positives
deep bedding
easy to clean with hoover and animal disinfectant spray
easy to see gerbils
Negative
very heavy
Verdict: the ideal gerbil home
Dunas
(on the upper shelf)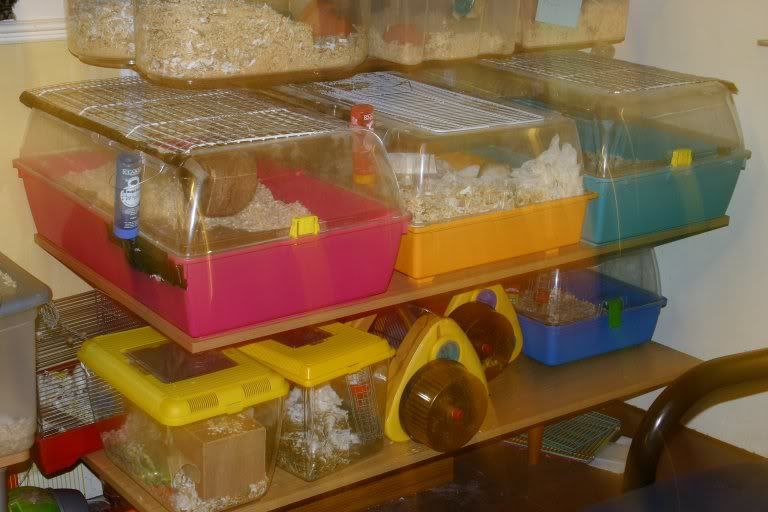 Positives
come in a variety of sizes
lighter than tanks
easy to clean and move
easy for children to access gerbils through open top

Negatives
get chewed
larger ones (rabbit dunas) need 1cm square mesh over bars
Rotastak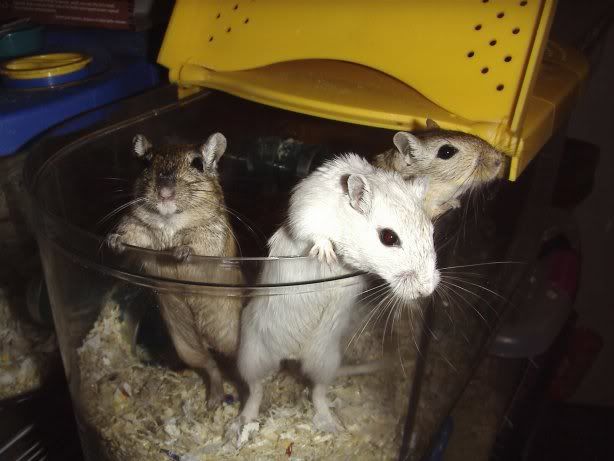 Positives
none
Negatives
expensive
separate sections can lead to declanning
too small
easily chewed
hard to clean
Storage tubs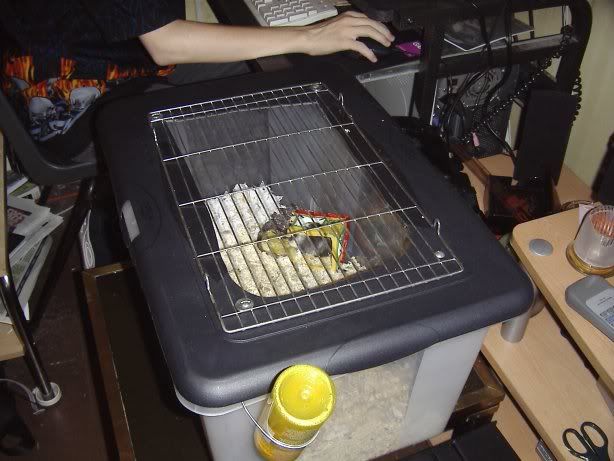 Positives
cheap
easy to make
lots of space/depth
lightweight
easy to clean
give pregnant/nursing mums confidence
Negatives
get chewed
hard to see gerbils clearly
Verdict: good option
Wire cages: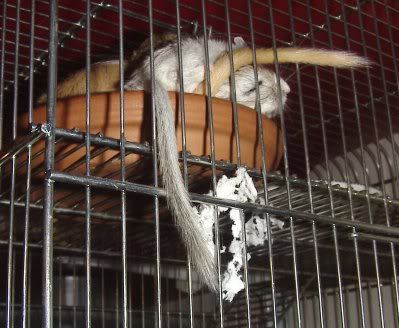 Positives
cheap
good ventilation
reasonable size usually
Negatives
messy, gerbils will kick bedding everywhere
wire floors are bad for feet
gerbils chew the bars/bases
Playtime
Playpens
Wire panels hinged together that form an enclosure to contain your gerbils. Gerbils will quickly learn to climb out of these, [edit, mod mpd] so best to use solid sided pens and are ideal for children to sit next to their gerbils and play.
Also good for those plastic toys (and others), wheels, sandbaths etc.
Expect escapees though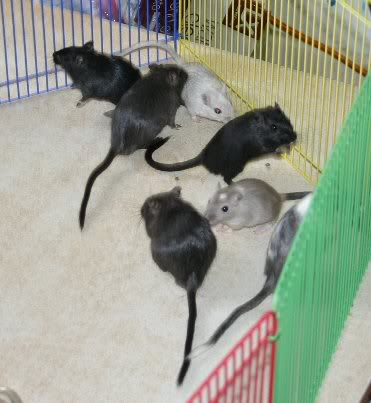 Wheels
This is the wodent wheel..plastic wheels are fine in playpens where they are supervised
[edit mpd mod] Wooden or solid metal wheels are better and can be placed in the cage.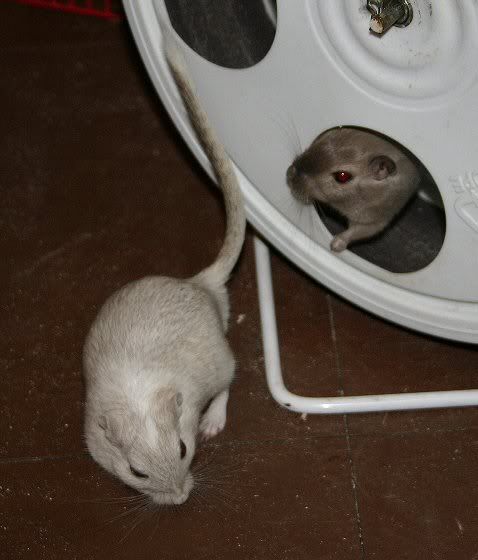 Sofa/coffee table
Great for gerbils to climb and play, watch out for falls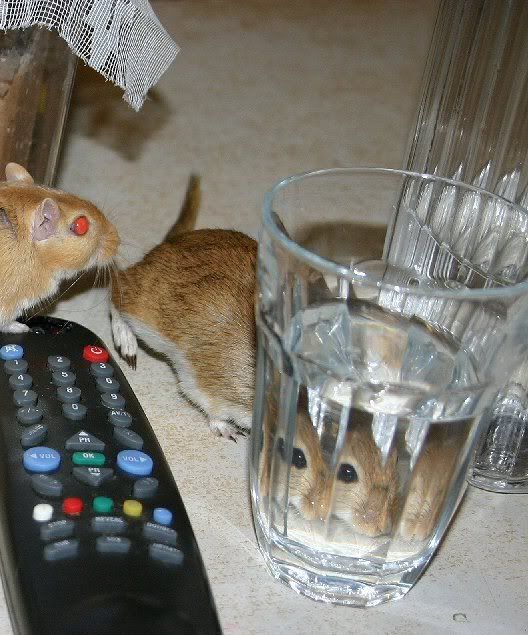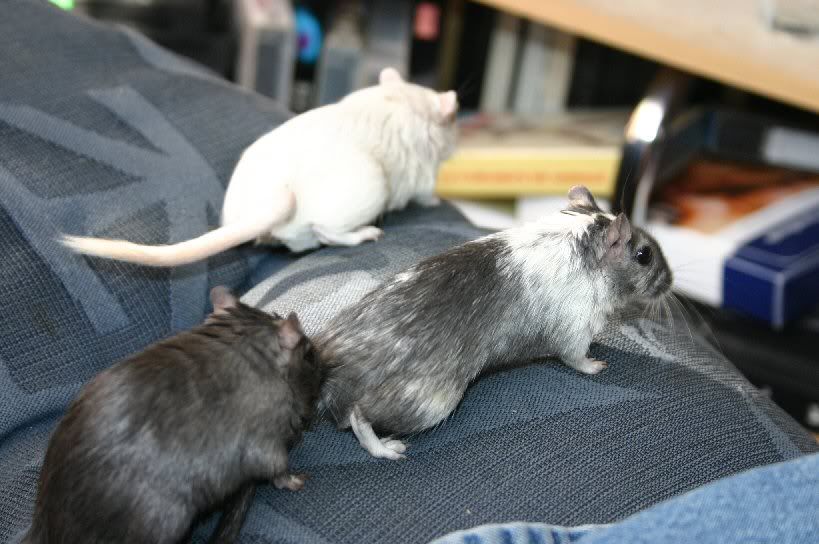 Children and gerbils generally mix well. Do supervise and help them learn to handle their pets safely.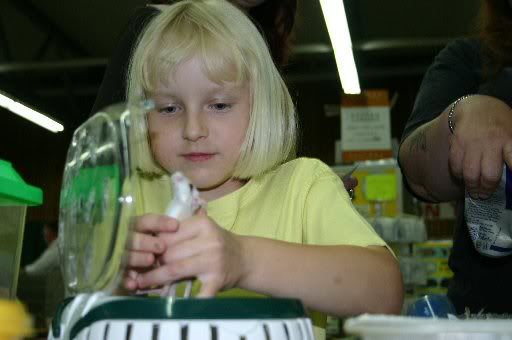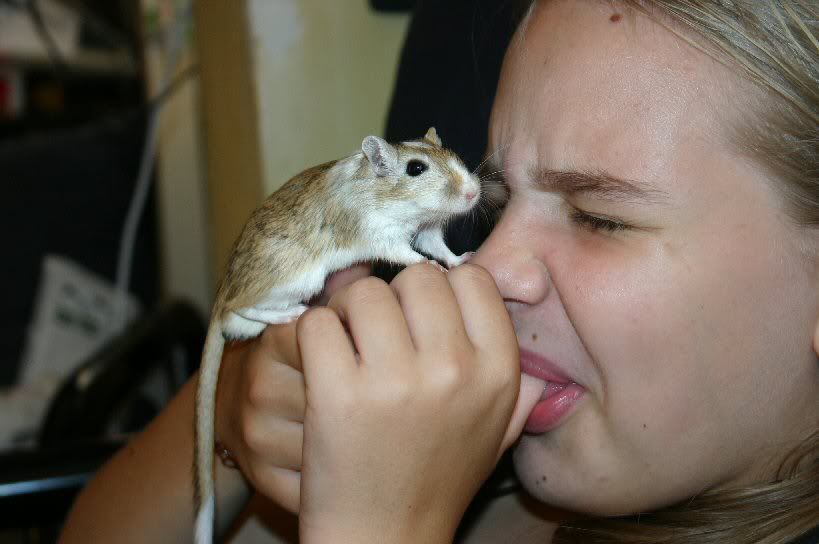 Hope this is helpful
Any requests?