Post by SilverGerbil on Nov 4, 2008 3:34:52 GMT -8
I bought a new coconut at tesco today, because i thought that my girlies both deserved a coconut not just 1 pair. So i thought i could give you lot a step-to-step on how to safely split, shell and set up a coconut toy, dish or whatever you wish to do with your skinned coconut shell!
Tools Required -
Flat ended Screw-Driver
Hammer
Knife
Bowl- For coconut Flesh
Glass - For coconut milk
Sandpaper
Step 1 - Place coconut in a work-bench vice or if you dont have one, i held the coconut between my feet
BE VERY CAREFUL
, place the nose of a flat ended screw driver into one of the 'eyes' of the coconut, and give a short sharp blow from the hammer, until it pierces into the flesh of the coconut. Repeat into one of ther other eyes'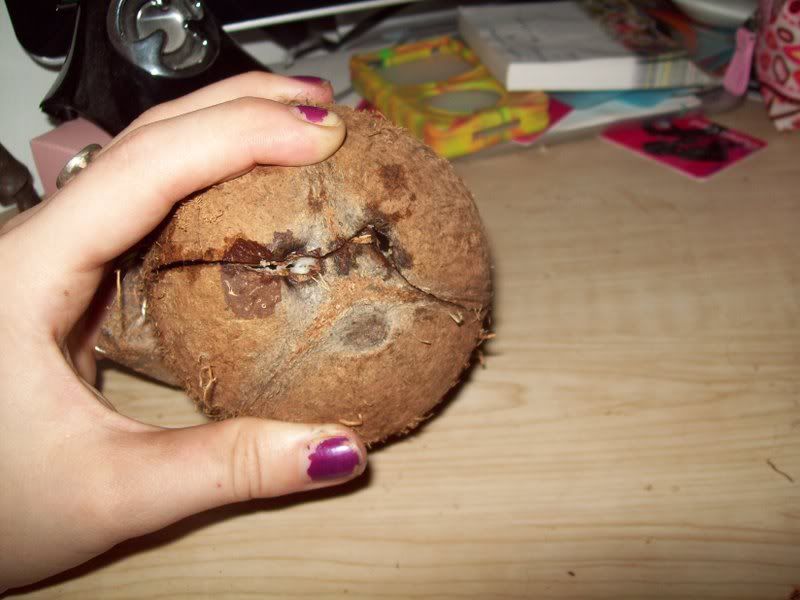 (i failed to take a before picture so i took one by holding the shell together so you could see the holes)
One - For milk to pour out
two - to let the air in so the milk pours
Place the coconut upside down into a glass and let the milk run out.
Step 2 - Brace the coconut in your hand hold it cupped in your hand, because as you hit the coconut your arm takes the blow, so the coconut cracks, if you hold it in a brace or on the floor it doesnt crack as well if atall.
BE CAREFUL!! - Dont hit your fingers, arm etc.
Hit the coconut along the 'natural crack' in the fruit with a sharp blow. It will crack the coconut. Now remember all coconuts crack differently so yours might not crack like mine.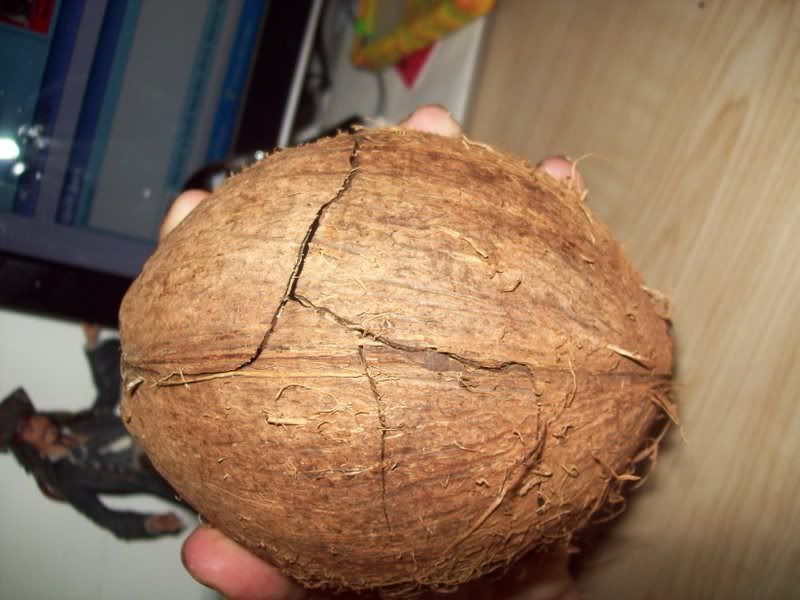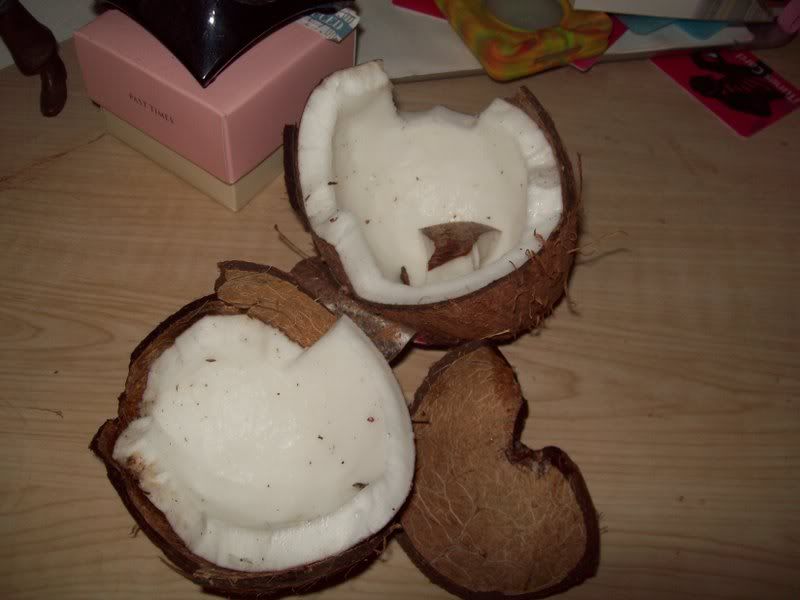 Mine cracked into 3 lovely pieces!
Then use a butter knife (non sharp bladed knife uses to spread butter) to pray the meat out of the shell.
Once you have done so you should end up with something like this.
A nice heaping bowl of coconut for yourself (and the gerbies if you feel like sharing!)
And a shell or 'shells' depending on how your coconut cracks for your gerbils.
My
origional
coconut shell the one i did first, to show how muchly different each coconut cracks.
Now for the 'fun bit' Making it safe for gerbils, if you have any sharp edges and have access to a large metal file (the ones mecanics use) then file down the edges its easier than using sand paper, if not then get the corser sand paper, and sand down the edges, and all along the shell to remove the 'husk' the fibrey strands attached to the coconut, from where it was removed from its origional husk.
And Voila.. You have a coconut for your gerbils, you can either use it as a dish... hidey hole... drill holes string it up... Do whatever you wish to do with your coconut... and of course devour the delicious flesh

!
x